Examples of Business Matching
The fair where business talks will voluntarily take place among the exhibitors
In the Kawasaki International Eco-Tech Fair 2015, weak acidic sterilization deodorant water "MistOasisAQ" was put on exhibition. We provided samples to IBS Corp., a professional company majoring in sterilizing and deodorant cleaning products/environmental hygiene that visited the exhibition and looked at this product. IBS Corp. was also an exhibitor at the exhibition, and is based in Kawasaki just as we are. Confirming the effect of MistOasisAQ, IBS Corp. adopted this product as a deodorant agent for cleaning operations.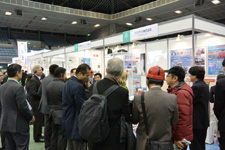 Toward expanding business opportunities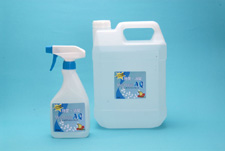 In addition to MistOasisAQ, as a pioneer in water jet technology, we exhibited "Pipe Cleaning Plus®", a sterilization and deodorant cleaning agent for drain pipes, and a solar panel cleaning system using "Ms. Fujiko®", a ladybird-like robot. For each service and product shown in the exhibition, we could hear various opinions, and business talks are now in progress in relation to many projects leading to enhanced recognition and estimate submission.
Product introduction
MistOasisAQ is sterilizing deodorant water with a strong effect that can be used in a reliable manner. Because of its weak acidity, it can be used by directly pouring it over the hand for sterilization. In addition, it has a high deodorant effect for organic matters, and is capable of both sterilization and deodorization for odors of tools after playing sports and lavatories / garbage. Meanwhile, where you need to be especially careful of odors and hygiene, "Pipe Cleaning Plus®", a patented sterilization and deodorant cleaning agent using MistOasisAQ for drain pipes manufactured by Fujiks Co., Ltd., is more suitable.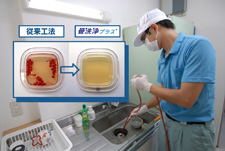 This fair Invited Unexpected Demand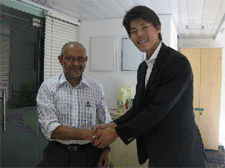 H.E. Mr. Ahmed Khaleel, Ambassador of the Republic of the Maldives to Japan, visited the booth of Sou-Show at the Kawasaki International Eco-Tech Fair 2013 and was impressed with the Energy Saving & Functional Window with Highly Efficient Hybrid Film "X-3 Film," a product exhibited at the fair.
Since the Maldives import most of its power from other countries, electricity expenses are approximately three times higher than that of Japan's. Therefore, energy saving is an urgent task of the country. Due to such a circumstance, a product which suppresses the flow of heat attracted him.
As a result of several meetings, Reefside Pvt. Ltd., a blue-chip company of the Maldives, decided to use the X-3 film for its building in 2014. Thus, business matching succeeded.

Expand Business Internationally
Sou-Show gave instructions on the installation method of the film while providing information on the capabilities of the X-3 film as a product. As a result, both the effect of the film and instruction of the installation method were highly esteemed. Later, both sides agreed on expanding the utilization of the X-3 film for a resort hotel. Thus, Sou-Show expanded into a new market.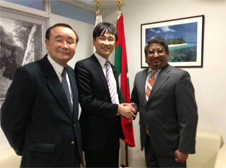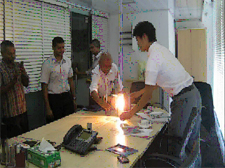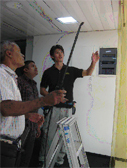 Giving instructions to local personnel on the installation method
Introduction of the Product
The Energy Saving & Functional Window with Highly Efficient Hybrid Film "X-3 Film" significantly filters out harmful infrared rays without reducing the brightness of the sunlight to block external heat and improve cooling and heating efficiencies so that energy can be saved and the load to the environment can be reduced through the saving of electric power. Thus, X-3 film can provide a bright and comfortable space.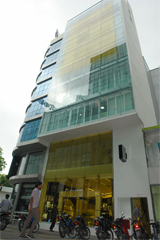 A building with windows to which the Energy Saving & Functional Window with Highly Efficient Hybrid Film "X-3 Film" was installed
This fair as a Bridge to a Company in Other Cities
When we attended the Kawasaki International Eco-Tech Fair 2013 as an exhibitor, a representative from Funax Co., Ltd. in Tsubame City, Niigata Prefecture, visited our booth and was interested in our antibacterial resin product/technology using bamboo powder.
Funax was considering the utilization of crushed leaves of bamboo from Niigata as a raw material of a biomass plastic product as part of the company's new product development.
We held meetings that concluded with an NDA and began supplying a pellet of raw material utilizing the leaves of bamboo from Niigata.

Business Opportunities are Expanded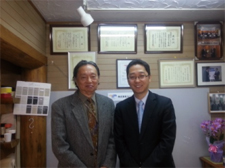 A wide range of businesses including the manufacturing industry inquired about UNI-PELE, from the supply of raw material to the introduction of products using UNI-PELE. Thus, the fair led to an expansion of understanding of our products.


Introduction of the Product
UNI-PELE is an epoch-making material that uses vegetable-based plastic and does not rely on fossil fuel. Bamboo-mixed resin (TAK-REM) has superior antibacterial activity and also has deterrent effects on mold and therefore is used for manufacturing household products such as food trays and chopsticks. Moreover, since it has low combustion calorie and the generation of toxic gas can be suppressed even when burned, UNI-PELE is a very environmentally friendly product.